Based on the true story of the Cristero War (1926-29), Andy Garcia, Peter O'Toole, and recent SIDEWALKS guest Eva Longoria star in "For Greater Glory."  
"For Greater Glory"
20th Century Fox
Rating: R
Talent: Andy Garcia ("General Enrique Gorostieta")
Eva Longoria ("Tulita Gorostieta")
Peter O'Toole ("Father Christopher")
Oscar Isaac ("Victoriano 'El Catorce' Ramirez")
Santiago Cabrera ("Father Vega")
Catalina Sandino Morena ("Adriana")
Bruce Greenwood ("Ambassador Dwight Morrow")
Ruben Blades ("President Plutarco Elias Calles")
Nestor Carbonell ("Mayor Picazo")
Mauricio Kuri ("Jose Luis Sanchez del Rio")
Adrian Alonso ("Lalo")
Eduardo Verástegui ("Anacleto Gonzalez Flores")
Director: Dean Wright
Screenwriter: Michael Love
Producer: Pablo Jose Barroso
Music (original): James Horner
Language:  The film is in English with occasional Spanish subtitles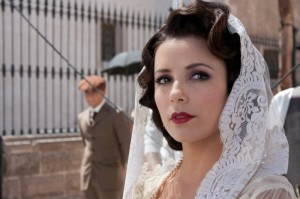 Studio Synopsis:
What price would you pay for freedom? In the exhilarating action epic FOR GREATER GLORY an impassioned group of men and women each make the decision to risk it all for family, faith and the very future of their country, as the film's adventure unfolds against the long-hidden, true story of the 1920s Cristero War – the daring people's revolt that rocked 20th Century North America.
Academy Award® nominee Andy Garcia headlines an acclaimed cast as General Gorostieta, the retired military man who at first thinks he has nothing personal at stake as he and his wife (Golden Globe winner Eva Longoria) watch Mexico fall into a violent civil war. Yet the man who hesitates in joining the cause will soon become the resistance's most inspiring and self-sacrificing leader, as he begins to see the cost of religious persecution on his countrymen . . . and transforms a rag-tag band of rebels into a heroic force to be reckoned with. The General faces impossible odds against a powerful and ruthless government. Yet it's those he meets on the journey – youthful idealists, feisty renegades and, most of all, one remarkable teenager named Jose – who, reveal to him how courage and belief are forged even when justice seems lost.
Director Dean Wright brings a visual power honed from years as a leading Hollywood effects guru – on such blockbusters as TITANIC, THE LORD OF THE RINGS trilogy and CHRONICLES OF NARNIA – to this real-life tale that has never been told on screen before. The film is written by Michael Love. The producer is Pablo Jose Barroso. Garcia and Longoria lead a stellar multinational cast that includes the legendary Oscar® winner Peter O'Toole, rapidly rising star Oscar Isaac (DRIVE), recording star and actor Ruben Blades (SAFE HOUSE), Bruce Greenwood (STAR TREK, SUPER 8), Nestor Carbonell (THE DARK KNIGHT RISES, "Lost"), Bruce McGill (LINCOLN), Santiago Cabrera ("Heroes," CHE), Oscar®-nominated Catalina Sandino Moreno (MARIA FULL OF GRACE) and Eduardo Verástegui (BELLA).
Shooting on historic locations throughout Mexico, the equally accomplished behind the scenes team includes director of photography Eduardo Martinez Solares (BAD HABITS), Oscar®-nominated editor Richard Francis-Bruce (THE SHAWSHANK REDEMPTION, SEVEN, HARRY POTTER AND THE SORCERER'S STONE), production designer Salvador Parra (VOLVER) and Oscar®-winning composer James Horner (AVATAR, TITANIC, BRAVEHEART).
[youtube]http://www.youtube.com/watch?v=3KiagxENUv4[/youtube]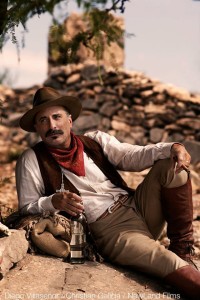 Jeanne's Take:
"For Greater Glory" is a strange mix of fact and fiction, with lots of gloss and plenty of filters. As a film, it has brief moments but ultimately descends into a puddle of petty propaganda.
The Cristero War in Mexico (1926-1929) is obscure to most North Americans. This civil conflict had its origins in three articles contained in the Constitution of 1917, which settled decades of political unrest in Mexico. Between 1810 and 1920, the pages of Mexican history are filled with villains and heroes larger than life and frequently at war over economic injustice, political corruption and interference by foreign nations – from Hidalgo, Santa Anna and Juarez to Madero, Villa and Zapata. Obregon becomes president after the assassinations of Zapata and Carranza. He has been described as tough, clever and pragmatic; he was selective in applying Constitutional limits placed on the great power of the Catholic Church. His successor, Plutarco Elias Calles, was neither diplomatic nor subtle. Battle lines were drawn between the powerful church hierarchy and the new president of Mexico.
Director Dean Wright and screenwriter Michael Love worked with a treasure trove of material, but were interested in only one point of view – the government was bad and all those who opposed the president were good. Ruben Blades gives a convincing portrayal of President Calles, known for being stubborn and inflexible until harsh reality causes him to see the possible need for mediation with the Cristero rebels.
Eva Longoria is transformed into the pure and elegant wife of a retired general, who wants her husband to risk everything he has in order to restore political rights to the Church. Peter O'Toole looks as though he was brought back from the dead to play the part of a priest. He sleepwalks through his role, and does not seem to notice that he is doing so.
Three lively depictions are those of the military leaders in the Cristero rebellion – Andy Garcia as General Enrique Gorostieta, Oscar Isaac as the guerrilla leader El Catorce and Santiago Cabrera as the warrior priest, Father Vega. These men are Hollywood poster figures – they are handsome, ride horses well and are impervious to bullets. They do not curse or disrespect women and they drink in moderation. They show contempt or anger by spitting into the dirt.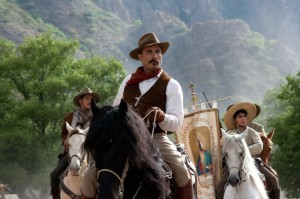 Women and men are separated carefully in this propaganda piece. General Gorostieta is shown lying next to his fully clothed wife in bed, once. The warrior priest, Father Vega, is surrounded by worshipful female supporters on a single occasion, who greet him primarily because he is a priest. Middle class women are well dressed and very quiet at home and in public. Working class women appear as scenic human furniture, patiently performing domestic work in other people's homes and in the rebel camp.
And the thousands of Federal soldiers drafted by President Calles to fight the rebels in villages and desert settings? They appear as faceless cannon fodder in fresh uniforms with little ability to think or shoot. In contrast, the rebels under Gorostieta, Vega and El Catorce are fearless and rarely miss when they use …handguns!
Who saves the day? The American ambassador Dwight Morrow, played by Bruce Greenwood. With the warring sides at an impasse, a skilled negotiator is needed. However, the U.S. sees this situation as an opportunity to force Mexico into granting greater opportunities for American oil companies.
When Andy Garcia intones, "Freedom has no compromise; by definition it is absolute," you sense where the story is going. And this direction is not good for the film or for historical accuracy. Garcia succeeds in his portrayal of a comfortable man and able leader who is persuaded to risk everything for a cause. The film – not so much.