Over the years, the "Sidewalks" format has morphed into what it is today: a highly-viewed, celebrity-based interview and music program on TV and web.
Can't see video? Try YouTube or Facebook
"Sidewalks Entertainment" has been a long-running series originating from the San Francisco Bay Area market. Launched in 1988, the multiple award-winning series is the brainchild of producer Richard R. Lee, who continues to direct, edit, and occasionally co-host the talk / variety program.
"Sidewalks" has proved to be very successful with programmers. For most of its run, the program was being telecasted weekly on more than sixteen cable stations.
Richmond station KCRT-TV began airing the show in a daily format in 1993, where it soon became one of the station's most popular programs. In 2008, the show was picked up daily by the Comcast Hometown Network, reaching over 1.7 million subscribers and covering Northern and Central California.
In late 2009, "Sidewalks" made its broadcast debut on San Francisco TV station, KOFY-TV (Ch. 20). In May 2012, the program premiered on broadcast stations KOTR (the MyNetwork affiliate in the Central Coast California) and KQSL (San Francisco Bay Area).  KOTR is airing the show twice on the weekends, while KQSL was telecasting the series Monday through Friday at 7PM until the station changed its lineup. In late 2013, the show made its premiere on Southern California broadcast station KILM-TV, which reaches majority of the Los Angeles television market.
In 2014, "Sidewalks Entertainment" has expanded its telecast pattern and is now seen across the USA on local channels, regional cable networks, college networks and online channels. The show is adding new stations each week. See on TV Stations section for more details.
HISTORY OF THE PROJECT:
"The original concept was to feature sidewalk street performers – hence the title of the series," says Lee. "The early seasons presented dancers, fashion designers, cultural performers, independent filmmakers, magicians, other artistic and novelty acts, and rising musical talents."
Since the first episode, "Sidewalks" has introduced a diverse range of over two-hundred acts from the greater Northern California region.
As the series progressed, "Sidewalks Entertainment" added some interviews with nationally-known celebrities to its lineup. Some of the initial interviews included comedian Rob Schneider, actresses Tia and Tamera Mowry, actor Sean Patrick Flanery and then-newcomer singer Mary J. Blige.
Around 2003, "Sidewalks" exploded with larger interviews with a lineup that rivals expensive national TV shows, such as late-night talk shows and entertainment magazines programs. "Sidewalks" has become a new TV destination for non-gossip celebrity interviews with stars from movies, TV, sports and music.
"Even though 'Sidewalks' is considered a regional show," remarks Lee. "The program's ability to feature hundreds of celebrity interviews is quite remarkable for a televised program based outside of Hollywood and New York."
The "Sidewalks" team has been able to experiment with a variety of segment ideas and program styles, and, most importantly, test the program's content with a growing viewing audience.
As of August 2016, the award-winning series — which won a 1995 Bay Area Cable Excellence as "Best Entertainment Show in the San Francisco Bay Area" — has produced over 705 episodes.
In front and behind-the-scenes, "Sidewalks" has given TV personalities and production crew members opportunities to show off their talents. Longtime host / producer Cindy Rhodes has been with "Sidewalks" since 1993. Former "Latin Eyes" host Veronica Castro became a main host in 2013, while previous "California Music Channel" VJ Lori Rosales is the recent addition to the hosting team. Additionally, stand-up comedian David Lew has been making appearances on selected episodes. On the production side,  J.P. Langston has been the longest crew member member as a videographer, writer and associate producer.
SPINOFF, SPECIALS AND WEBSITE:
In 1992, a second series was developed called "Sidewalks: Video Nite." Seen exclusively on KCRT-TV, the spinoff shows national music videos in the pop, rock, R&B and hip-hop genre. The videos features popular performers like Beyonce, Selena Gomez, Coldplay, and Katy Perry, as well as rising new artists. "Video Nite" ended its official run in September 2013.
A number of special programs were also produced, including Backstage at the Bay Area Music Awards (later California Music Awards), two The Holiday Toy Guide Specials, and Summer Jam.
"The program's official website at SidewalksTV.com has become a rising entertainment portal for interviews and segments," says Lee. "The site houses one of the largest collection of full-length interviews and specialty segments, which are available for free online. A new worldwide audience is discovering 'Sidewalks' each day."
The producers has been providing segments and specific episodes for other digital platforms. In 2007, selected interviews were appearing on TitanTV.com, a media service providing on-line material for network affiliates. "Sidewalks" became their first non-broadcast program to appear on their service.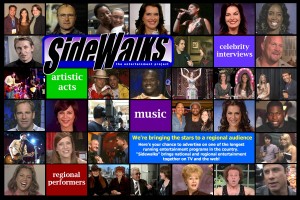 RELAUNCHING THE PROGRAM:
The core team members have began to expand the product. Currently assembling new business partners and production team members, the "Sidewalks" staff is transitioning the popular show into a weekly one-hour program for cable and broadcast stations, with new elements that would include movie previews and on-going segments on how to make it in show business. Additionally, the producers will be providing segments and specific episodes available for other digital platforms.
According to Lee, "Our goal is for viewers to watch the 'Sidewalks' brand on TV, digital media such as I-Pods and phones, screens in department stores, and other places. The staff behind 'Sidewalks' has built an incredible vehicle from nothing. It's an entertainment project that will expand and go places."
For more information about the current and new "Sidewalks" programs, please contact us.