"Sidewalks Entertainment" is presented by a group of engaging personalities, as well as a dedicated behind-the-scenes production team.
CURRENT ON-AIR HOSTS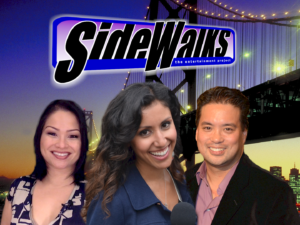 "Sidewalks Entertainment" is presented by a variety of on-air personalities:
Veronica Castro became a host in March 2013.
Cindy Rhodes has been with the program since 1993.
Richard R. Lee, the creator of "Sidewalks," is a co-host, who has been making appearances since 1997.
Lori Rosales is a host, who made her debut in 2016.
Beau Behan is a correspondent, who made his debut in late 2016.
David Lew is a special guest correspondent, who first appeared in 2014.
Ray Alvarado is a special assignment correspondent.
Other new correspondents, who had an opportunity to appear during this and last season: Turkish on-air personality Birsen Birdir Thompson, singer Amanda Elliott, and Miss Latina San Pablo and Oakland runner-up Carolina Guzman.

____________
THE PRODUCTION CREW
The production members are the real stars of this series. Their hard work, commitment and dedication is truly the backbone of this production.
Lori Rosales is an associate producer. J.P. Langston, Ray Alvarado, Sunny Singh, Hadrian Santos and Rebeca Zuniga are part of the current production staff.
Jeryl Orsino wrote, produced and performs "So Many Things," the current theme song for "Sidewalks: The Entertainment Project." The show also uses Jeryl's singles, "I Told You So" and "Stupid" in their instrumental versions.
Barton Thomas wrote, produced, and performed the original theme song for "Sidewalks." Additional music is provided and performed by Ozzie Ahlers. Various tracks are from Ozzie's debut CD, "Fingerpainting," a Higher Octave Music release.
Besides creating the show, Lee is the executive producer, editor, and webmaster for the "Sidewalks" website.
Along with contributions from the regular crew members, Langston, Drittenbas, Rosales, and Lee are writers for SidewalksTV.com.