KCRT-TV Air Times
(starting September 15, 2014)
12:30AM and 6:00AM (Monday, Wednesday, Friday)
1AM & 1:30AM (Weekends)
8PM (Thursday)
In the early '90s, selected national music videos were added to the ambitious lineup of the original "Sidewalks"series.
As more music videos became available to the weekly production, creator/producer Richard R. Lee decided to launch a spinoff series to handle the extra load of music clips. "Sidewalks: Video Nite" was born — as a separate program that would present "30 minutes of music from your favorite artists."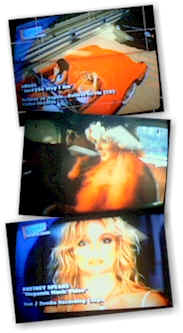 The music clips are provided by numerous record companies and independent distributors, such as Warner Bros. Records, Capitol Records, Sony BMG Music Entertainment, Columbia Records, Virgin Records, Universal Music Group, Island Def Jam Music Group, Vis-Ability, AristoMedia, RCA Records, A&M Records, Interscope Records, J Records, Atlantic Records, Epic Records, Wind-up Records, Mercury Records, Reprise Records, Telemotion, and many others.
In previous seasons, viewers or "Sidewalks'" on-air personalities from Dee Jones to Lee hosted the episodes. The recent version of "Video Nite" consists of 30 minutes of back-to-back music videos in its complete, uncut versions. No shout outs. No annoying "Tonight at 10pm" graphics. No countdowns. Just the music.
From 1999-2004, "Sidewalks" was a member of CVC Report, an industry magazine and main music video tracking service in New York. In 2005, "Sidewalks" joined the short-lived IMV Report, an internet-based tracking service replacing the demise of CVC. Later in 2005, "Sidewalks" became reporters for Frame Magazine and Music Video Press.
"Sidewalks: Video Nite" ended its official telecast of first-run episodes in September 2013. The show continues to air as encores on KCRT.