The Richmond Standard pens article about our celebrity and music TV show.
Local Richmond, CA online news site, The Richmond Standard, presents an article about SIDEWALKS ENTERTAINMENT that was published online on Friday, June 23, 2017.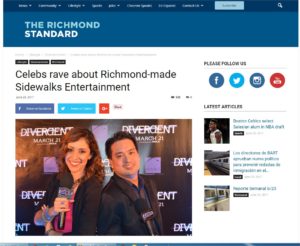 Written by freelanced reporter Mike Kinney and Senior Account Executive for Singer Associates & the editor of Richmond Standard Mike Aldax, the article, entitled "Celebs rave about Richmond-made Sidewalks Entertainment," focused briefly on the history of the show, our creator / producer / host Richard R. Lee, and how national celebrities are appearing on our self-made television show, which now airs on 50 plus affiliates round the country.
Launched in March of 2014, The Richmond Standard presents local news, crime reports, and sports stories within the city of Richmond, CA. The online site is presented by the Chevron Corporation with Singer Associates designing and maintaining the online venture.
Read the article: Celebs rave about Richmond-made Sidewalks Entertainment (June 23, 2017)