They're back … for the 5th feature in the blockbuster film series. Our J.P. has his thoughts on "Transformers: The Last Knight," starring the returning Mark Wahlberg.
Transformers: The Last Knight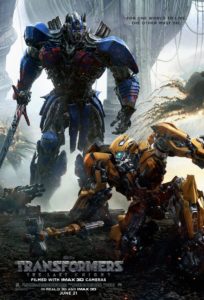 Paramount Pictures
Directed by: Michael Bay
Starring: Mark Wahlberg, Josh Duhamel, Anthony Hopkins, Laura Haddock, Jerrod Carmichael, Isabela Moner and Santiago Cabrera
Studio Synopsis:
The Last Knight shatters the core myths of the Transformers franchise, and redefines what it means to be a hero. Humans and Transformers are at war, Optimus Prime is gone. The key to saving our future lies buried in the secrets of the past, in the hidden history of Transformers on Earth. Saving our world falls upon the shoulders of an unlikely alliance: Cade Yeager (Mark Wahlberg); Bumblebee; an English Lord (Sir Anthony Hopkins); and an Oxford Professor (Laura Haddock).
There comes a moment in everyone's life when we are called upon to make a difference. In Transformers: The Last Knight, the hunted will become heroes. Heroes will become villains. Only one world will survive: theirs, or ours.
J.P.'s Take:

Well, here we go again — another loud crass robotic fiasco. Why director Michael Bay continues to push out incoherent drivel such as "Transformers: The Last Knight" literally boggles the mind. It is beyond me how they couldn't have spent the time crafting enthralling sci-fi, as opposed to a jarring, chaotic, even less than captivating sequel.
When the first "Transformers" film was released in 2007, it felt fresh and lively on its feet. It jump started the franchise and gave me some hope that the film series would be worth following. Now here we are, five films in and they are showing signs of staleness. The dialogue continues to confuse or rather enlighten its audience, and I can't make heads or tales of scene transitions. Much of the plot went from A to Z in a hurry, with no real anchor to hold the viewers attention – even enough to care about its characters.
The amusing moments were far and few between but not memorable. Then again this is classic "BAYHEM" (Bay's style of camera movement, composition and editing that creates something overblown, dynamic and distinct) with explosions and expositions abound. If something wasn't being blown up, machines were being clobbered followed by chase scenes. To be quite honest about the only thing worthy of our eyeballs were the awesome effects. However, you can't hold a movie of this scale together with just eye candy.
The vague storyline that did arise is a watered down and modified version from the original cartoon series. It stemmed from seasons three and four, yet I won't bother to go into detail because it was much more involved in the animated volumes.
Although thinly veiled, the plot barely held together enough to justify the characters' motivations. Yet, there isn't much life to the characters, just actors and actress with model good looks in exotic locations. One astonishing feat is how Bay roped Sir Anthony Hopkins into this madness. He was practically wasted here. The young actress Isabela Moner who happens to play a character with the same name Izabella – with a Z, is the only adorable face. However, she's not given much of a back story. Stanley Tucci returns as a mythical character, the famed medieval wizard Merlin (you may remember him from "Transformers: Age of Extinction" as the character Joshua Joyce. John Tuturro as Agent Simmons is also limited in his capacity; he's confined to a few scenes in Cuba in dry comedic form.
About the only thing I did find intriguing about T5 is the fact that Quintessa (Gemma Chan) was brought aboard to bridge the gap between the Autobots and their connection with Earth. Secondly there is some linking info, which will lead to a sixth installment that has to do with the fall of Cybertron.
Honestly, I'm hoping the next in line will somewhat redeem this mess. but I'm not totally hopeful. Also in 3D, the environments had depth and look inviting.
"Transformers: The Last Knight" is tiring, vague, loud, choppy and simply not worth the full ticket price. This was one they could have rushed straight to DVD or Netflix if you ask me.