Following 2011's "Thor" and 2013's "Thor: The Dark World," the crown prince of Asgard (Chris Hemsworth) returns for another solo outing with "Avenger" buddy Hulk (Mark Ruffalo). Our superhero fan J.P. gives his thoughts on "Thor: Ragnarok."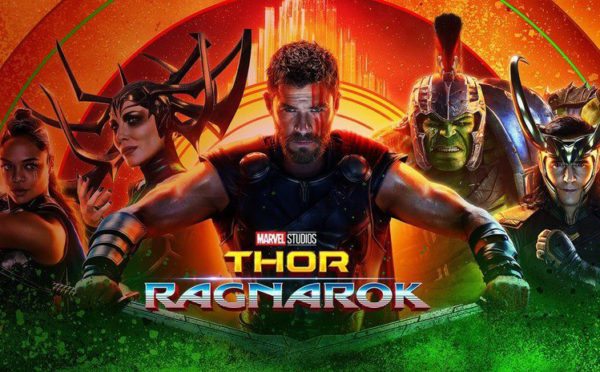 Thor: Ragnarok
Marvel Studios / Walt Disney Studios Motion Pictures
Director: Taika Waititi
Actors: Chris Hemsworth, Mark Ruffalo, Cate Blanchett,Jeff Goldblum, Tessa Thompson, Karl Urban, Anthony Hopkins, Tom Hiddleston, Idris Elba
Producer: Kevin Feige
Composer: Mark Mothersbaugh
Studio Synopsis:
In Marvel Studios' "Thor: Ragnarok," Thor is imprisoned on the other side of the universe without his mighty hammer and finds himself in a race against time to get back to Asgard to stop Ragnarok—the destruction of his homeworld and the end of Asgardian civilization—at the hands of an all-powerful new threat, the ruthless Hela. But first he must survive a deadly gladiatorial contest that pits him against his former ally and fellow Avenger—the Incredible Hulk! "Thor: Ragnarok" thunders into U.S. theaters on November 3, 2017.
J.P.'s Take:
One would expect Thor, the Norse God of Thunder, to be as predictable and stereotypical as in his previous two outings, "Thor" and "Thor: The Dark World."
Fans would certainly foresee him rushing head long into battle with his merry gang of brutes to save the day. That would be commonplace in a gaggle of Marvel films before this one. Thankfully "Thor: Ragnarok" is not that film. It seems the folks at Marvel Studios are bucking the norm: taking a valiant and archetypical character and turning him into a straight man.
This new formula seems to be working for them as the hammer wielding blondy is funnier than most people would give him credit for. When you think about it, Thor is practically set up for humor; every where he roams he must announce himself as "I am Thor, son of Odin." We understand many heroes have their catch phrases. But really, who does that? So how rare is it that you see him captured in bondage while cracking jokes at the expense of his opponents? All the while finding out the joke is really on him, when he's dangling from a chain over a lava pit like smoked salmon. Thor exclaims he'll knock the crown from Surtur's (voiced by Clancy Brown) head while he spins haplessly trying to sound stern and serious in his reproach. Or how about the moments when his mighty hammer doesn't return to him when summoned.
What better to break the monotony than to add a little levity? Something director Taika Waititi specializes in for this third installment. This is the liter, sillier, if slightly sentimental side, to a rather bland character, which works to a degree. As viewers, we're always caught up in treacherous entanglements and grandiose battle sequences. Waititi creates moments of comradery between the characters, so that it's not totally about the trials and tribulations; rather the relationships. Thor is joined by fellow Avenger, Hulk (Mark Ruffalo), after being captured and thrusted into gladiator like games by the Grandmaster (Jeff Goldblum). Thor shouts "Yes! I know him; he's a friend from work!"
You have to thank writers Christopher Yost, Eric Pearson, and Craig Kyle for injecting some normalcy into otherwise banal material. You have to look at the type of antics in this film as a day in the life of the God like hero on and off the job. He's basically kicking it with his co-workers and having a few laughs and maybe a couple brews.
You'll find a sprinkling of familiar characters from other Marvel entities making their appearances:
Benedict Cumberbatch as the spellbinding Dr. Strange pops in and back out again, guiding Thor along his journey.
Anthony Hopkins reprises his role as father to Thor and his mischievous brother Loki (Tom Hiddleston). Hopkins offers up a serving of humor before dishing out the fatherly advice in a Yoda like fashion.
As for Loki, Hiddleston plays him with ease, yet with a twist as he switches sides for a bit. Loki sees the error of his ways and joins forces with his brother and Hulk.
Scarlett Johansson is also there if for but a minute or two.
Newcomer Tessa Thompson makes her "I am woman hear me roar" presence known as the plucky Valkyrie. Thompson not only added to the comic spectacle, she also matched Thor's fierceness blow for blow.
Idris Elba is the noble and steadfast Heimdall.
Jeff Goldblum takes his role with a good bit of tongue and cheek fun, as he sports a pompadour like hair style and blue nail polish. Not to mention his threads look as though they're tailor made by some futuristic houte couture label maker. He's bumble headed in a quirky dictator way.
The real stand out here, however, is Cate Blanchett as the minxy Hela. Her character draws a connection to Thor's lineage, one in which many fans would know about. Blanchett gives quite a fiery if a bit vampy performance and you can tell she's enjoying her role. I did as well.
As with their "Guardians of the Galaxy" and "Deadpool" entities, "Thor: Ragnarok" sparks a fresh new direction in which Marvel is willing to take a chance with. They seem to be winning with that so far. However, some may feel Marvel is moving too far off course with the "laughter is the best medicine" policy. I feel it is much needed; as exhilarating as Marvel films are, they can afford to use humor. "Thor: Ragnarok" is a hilarious laugh riot and a much needed one for the God of thunder.