Our J.P. reviews "The Shape of Water," a film written and directed by Guillermo del Toro and stars Sally Hawkins, Octavia Spencer, Michael Shannon, Richard Jenkins, Michael Stuhlbarg and Doug Jones.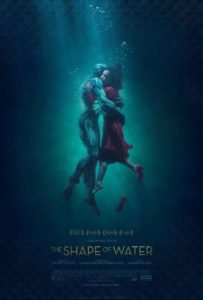 THE SHAPE OF WATER
Fox Searchlight Pictures
Rating: R / Run Time: 118 minutes
Directed by Guillermo del Toro
Produced by Guillermo del Toro, J. Miles Dale
Screenplay by Guillermo del Toro, Vanessa Taylor
Story by Guillermo del Toro
Starring Sally Hawkins, Michael Shannon, Richard Jenkins, Doug Jones, Michael Stuhlbarg, Octavia Spencer
Music by Alexandre Desplat
Studio Synopsis:
From master story teller, Guillermo del Toro, comes THE SHAPE OF WATER – an other-worldly fable, set against the backdrop of Cold War era America circa 1962. In the hidden high-security government laboratory where she works, lonely Elisa (Sally Hawkins) is trapped in a life of isolation. Elisa's life is changed forever when she and co-worker Zelda (Octavia Spencer) discover a secret classified experiment. Rounding out the cast are Michael Shannon, Richard Jenkins, Michael Stuhlbarg and Doug Jones.
J.P.'s Take:
Guillermo del Toro's grim love story, "The Shape of Water," is the atypical beauty and the beast fantasy. With the reoccurring theme of love conquering all in the midst of adversity, it receives a social/political treatment as its undertone.
The story is told from the perspective of a mute, sexually repressed research facility custodian named Elisa Esposito (Sally Hawkins), who discovers an amphibious creature (Doug Jones) being held captive in an underground lab. Much of her life is spent working, visiting her next door neighbor Giles (Richard Jenkins), while day dreaming of finding true love. It's set in the Cold War era, where America and Russia are at odds with one another, yet still rooted in fantasy, as Elisa begins to develop a connection with the amphibious humanoid.
Their interactions are subtle at first, until she finds out how intelligent the "beast" really is. Del Toro's eschewed vision of romance invites the audience to look past the physical disposition of the creature and delve into the spirit of the matter. He does this by giving the sea creature human like qualities. The two relate to one another greatly through the fact that neither of them can speak. Their relationship transcends language, however, as the two become – "intimate" to say the least. I must admit these scenes will leave you blushing, even awkwardly giggling, at what transpires between the two. There are other elements that will allow viewers to connect the dots as to Elisa's true identity as well. Questions arise as to her being left orphaned and found floating in a river as a baby.
Up front, "The Shape of Water" is a slow churning tale that strikes up intrigue one moment and excitement the next. It doesn't rush either side of the spectrum with a 1 hour 59 minute runtime, while giving viewers insightful knowledge to keep us engaged. I loved Elisa's tenacity as she allows nothing or no one to impede her efforts of saving her prince. She's able to display her emotions through nothing more than facial expressions and hands gestures alone (except for a mid-movie scene where she does a song and dance routing as fantasized by her with her beastly male companion). You're able to hear her voice for just that moment only.
There are stories within a story her; none of which spend a great amount of time airing out their intentions. Giles is a lonely gay male, aging and longing for a life he could have had. He and Elisa seem to be the best of pals as they share each other's pain. Russia and the U.S. try to one-up one another in the spy games arena. The Russians sends in a mole, Dr. Robert Hoffstetler (Michael Stuhlbarg), to obtain secrets involving the mysterious creature. Colonel Richard Strickland (Michael Shannon), Head of Research, is the bullheaded military presence bent on making history for his discovery of this sea monster, while keeping the Russians at bay stealing his trophy.
As for the actors, Hawkins does wonders in the non-speaking role and is able literally wear her sentiments on her face. Not to say that her co-stars doesn't deserve kudos for their roles as well. Octavia Spencer makes us believe that she is Elisa's true ally when it comes to having her back. Spencer plays Zelda Fuller, a fellow janitor, who aids Elisa in her quest for freeing her one and only love. Shannon personifies despicableness as Col Strickland nicely. They are joined by David Hewlett ("Stargate: Atlantis") playing the yes-man scientist Fleming. Doug Jones (currently on TV's "Star Trek: Discovery" as Lt. Commander Saru), who excels at embodying creatures, doesn't fail here as the amphibious sea being. Nick Searcy is the hardboiled General Hoyt, Strickland's superior.
In the background, there are the underlying issues of race, religion, human's inhumanity to humans, politics, discrimination and the likes. These are elements Del Toro seems to master a film, such as 206's "Pan's Labyrinth." Yet, it's not the core of the subject here.
"The Shape of Water" is a grown up fairy tale: one that is poetic in its storytelling and visually is both pleasing and dreary to view. On the one side, it is fuzzily set in reality and the on the other – set in a believable fantasy. This is Guillermo del Toro's attempt at telling a love story, which works if you remember films like "Swamp Thing" or its forbearer "Creature from the Black Lagoon." This was nicely done.