A man's fight for survival and freedom.  Chiwetel Ejiofor and Michael Fassbender are some of the stars of Steve McQueen's "12 YEARS A SLAVE."
12 YEARS A SLAVE
Fox Searchlight Pictures
Directed by: Steve McQueen
Screenplay by: John Ridley
Based on the book by: Solomon Northup
Produced by: Brad Pitt, Dede Gardner, Jeremy Kleiner, Bill Pohlad, Steve McQueen, Arnon Milchan, Anthony Katagas
Cast: Chiwetel Ejiofor, Michael Fassbender, Benedict Cumberbatch, Paul Dano, Garret Dillahunt, Paul Giamatti, Scoot McNairy, Lupita Nyong'o, Adepero Oduye, Sarah Paulson, Brad Pitt, Michael Kenneth Williams, Alfre Woodard, Chris Chalk, Taran Killam, Bill Camp.
Studio Synopsis:
12 YEARS A SLAVE is based on an incredible true story of one man's fight for survival and freedom. In the pre-Civil War United States, Solomon Northup (Chiwetel Ejiofor), a free black man from upstate New York, is abducted and sold into slavery. Facing cruelty (personified by a malevolent slave owner, portrayed by Michael Fassbender) as well as unexpected kindnesses, Solomon struggles not only to stay alive, but to retain his dignity. In the twelfth year of his unforgettable odyssey, Solomon's chance meeting with a Canadian abolitionist (Brad Pitt) forever alters his life.
[youtuber youtube='http://www.youtube.com/watch?v=z02Ie8wKKRg']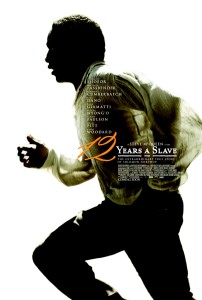 Jeanne's Take:
British film director Steve McQueen has given us an unforgettable depiction of slavery in the antebellum South, one which will provide for most Americans their deepest education yet in why slavery in the New World was a form of genocide. McQueen creates his indelible images in "12 YEARS A SLAVE" through a combination of casting, photography and a careful reading of Northup's memoir of that terrible period in one man's life.
Solomon Northup was born a free man in New York state in 1808. He married Anne Hampton on Christmas Day 1829, and they had three children. In 1841 he was drugged, sold into slavery and transported to the Deep South where he struggled to survive for 12 desperate years before regaining his freedom. Northup's memoir was published in 1853.
Slavery was a crucial aspect in the development of the New World's prosperous economic system (1500s into 1800s). The plantation economies of North America and Latin America depended on slave labor. White men refused to do the work, so it was decided to enslave Native Americans until they were exterminated, and then to kidnap Africans and transport them to the Americas in order to build wealth for the Europeans.
Solomon Northup's memoir speaks for itself, and McQueen realizes that. He allowed this searing record to unfold on the screen as it was written, and so created a most powerful film.
Most of us think we know what goes on in the city or town where we live, and we would be wrong. Recall the periodic media revelations of sweat shops, massage parlors and abuse in schools right in our midst, for example. Imagine the feeling of amazement experienced by Solomon Northup when he woke up half naked and chained in a dank basement cell, right in the heart of Washington D.C. How could such a thing happen in the heart of his nation's capital, he wondered. How can this be? He is told that from now on, his name is Platt. But he never forgets that he is Solomon Northup; for 12 years he clings to that name until his memories and his determination are rewarded.
For actor Chiwetal Ejiofor, the challenge was to get inside Northup's state of mind and then show the complete and utter disbelief at his new status as a kidnap victim. He protests, only to be beaten into submission by the slave catchers. Another kidnap victim recognizes that Northup is a first-time enslaved, and warns him not to protest too much, or he will be killed. It is good advice. One brave enslaved man protests when he sees a white mariner about to rape a female kidnap victim, and he is killed on the spot.
From the leisurely life of a free family man in New York, Northup is transported into a hell he had never experienced. Dinner with new white friends, Brown (Scoot McNairy) and Hamilton (Taran Killam), in Washington D.C. results in his being drugged and transported to a dungeon. By night he is chained and moved by wagon to a steamboat and so is sold eventually to a plantation owner in New Orleans.
The other enslaved survivors he meets on this twelve year journey, along with the various slave dealers and slave owners, comprise his new world. We witness what he experiences and see him struggle to respond in ways which allow him to survive.
Chiwetal Ejiofor's fine performance as Solomon Northup is matched by other depictions in the film. Michael Fassbinder is riveting as Edwin Epps, a plantation owner so immersed in his addiction to power that he does not see its corrosive impact on his marriage.
Sarah Paulson is chilling as his perfectly groomed wife seething with frustrated anger. She demands that her husband sell young Patsey (stunning performance by Lupita Nyong'o) to another plantation; Epps refuses and continues to rape Patsey when he chooses. Unable to stop Epps from going to Patsey's bed, Mistress Epps begins to physically attack her so as to make the helpless girl unattractive to Epps. Bewildered and desperate, at one point Patsey asks Northup to please kill her so she can escape her torment; he is afraid and so refuses.
The above dilemma is one of several moral crises which Northup must face as he struggles to determine where he can make a difference, and where he must stand aside and allow others to suffer so that he can survive.
An interesting cameo by Alfre Woodard as Mistress Shaw, the African American wife of a white plantation owner, reminds us that in Louisiana sometimes an enslaved mistress could rise above Patsey's desperate plight, as long as there was no white woman on the plantation.
Some have quibbled over a cameo by Brad Pitt, one of the film's producers. He appears briefly as a Canadian traveling through the U.S. and its territories, working as a carpenter, and he is convincing in his role. The fact that he is recognizable as Brad Pitt hardly qualifies as a reason to keep him off camera.
Chiwetel Ejiofor is a Nigerian actor from England. He previously appeared in "Amistad" with Anthony Hopkins and Morgan Freeman, as well as "American Gangster" with Denzel Washington and Russell Crowe. Alfre Woodard has starred in "Steel Magnolias" with Phylicia Rashad and Jill Scott, as well as in "Down in the Delta" with Wesley Snipes and Al Freeman Jr.
The screenplay for "12 YEARS A SLAVE" was written by John Ridley, who has seven published novels under his belt. He also wrote the screenplays for three other films, and has written for television.
Filmed on five locations in Louisiana, this film surrounds Solomon Northup with the physical environment of the antebellum south – humid hot weather, the lush beauty of tropical vegetation, plantation crops demanding constant attention (sugar cane and cotton), challenges of felling trees and creating lumber, the sound of cicadas.
As more than one critic has implied, "12 YEARS A SLAVE" is about a holocaust, specifically the vastly underreported details of slavery as practiced in the United States and its territories. Thanks to the efforts of director Steve McQueen and producer Brad Pitt, the harsh reality of antebellum slavery may finally receive recognition.
This one is a major Academy Awards contender, and a film for the ages.