Writer / co-creator J. Michael Straczynski and stars Daryl Hannah, Brian J. Smith, and Tuppence Middleton are just some of the interviews at the San Francisco red carpet premiere of "Sense8," Netflix's latest drama/fantasy series, co-created by Andy and Lana Wachowski.
"One gunshot, one death, one moment out of time that irrevocably links eight minds in disparate parts of the world, putting them in each other's lives, each other's secrets, and in terrible danger. Ordinary people suddenly reborn as 'Sensates.'"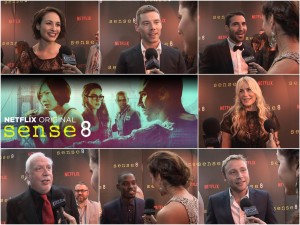 "Sense8" is a 10-episode, first-season drama from Lana and Andy Wachowski ("Bound," "The Matrix," "Cloud Atlas") and J. Michael Straczynski ("Babylon 5" TV series and films "Changeling," "Thor" and "Underworld Awakening"). For Wachowski siblings, "Sense8" is their first TV show production, which was filmed around the world and features an array of international actors. Popular stars, such as Naveen Andrews ("Lost"), Daryl Hannah ("Splash," "Kill Bill"), Brian J. Smith ("Stargate Universe") and Freema Agyeman ("Doctor Who"), appeared in a number of episodes.
SIDEWALKS host Veronica Castro talks to the co-creator Straczynski and a numbers of the stars, who came to San Francisco — where parts of the series was filmed — for a red carpet preview show at the AMC Metron. The following are the complete interviews, as well as non-televised segments with Ness Bautista (plays Diego) and Maximilienne Ewalt (Grace).
For a limited time, the full "Sidewalks" episode is available online. Watch here.
Video Content: Writer/Executive Producer J. Michael Straczynski with Daryl Hannah (Angel)

Video Content: Brian J. Smith (Will Gorski)

Video Content: Tuppence Middleton (Riley)

Video Content: Aml Ameen (Capheus)
(Please note: Mr. Ameen has left the show after season 1. The role has been recast with Toby Onwumere)

Video Content: Ness Bautista (Diego)

Video Content: Max Riemelt (Wolfgang)

Video Content: Miguel Ángel Silvestre (Lito)

Video Content: Maximilienne Ewalt (Grace)

Recorded: May 27, 2015
Host / Producer: Veronica Castro
Camera: J.P. Langston
Production Assistant: Sunny Singh
Editors: Rebeca Zuniga & Richard R. Lee
Special Thanks To: Netflix, Georgeville Television, Studio JMS, AMC Metreon, Larsen Associates