Jeanne Powell reviews "Chasing Shakespeare," starring Danny Glover and Graham Green.
Chasing Shakespeare
Eleven-55 Films
Director: Norry Niven
written by: James Bird
Produced By: Loren Baulto, Norry Niven, Anya Remizova
Cast: Danny Glover, Ashley Bell, Graham Greene, Clarence Gilyard Jr., Brina Palencia, Clayton Rohner, Chelsea Ricketts, Tantoo Cardinal
Studio Synopsis:
In its purest form, Chasing Shakespeare is a love story for all time. Told in flashback from his wife's deathbed, William Ward's (Danny Glover) story traces his first meeting of the beautiful Venus (Tantoo Cardinal) who is from the Lightning Clan, a mystical Native American family living in Arkansas. We see William and Venus meet and fall in love, challenging her deceased father's vision for her true love and her destiny. After William's father is stricken ill, William cannot follow her to Broadway so Venus strikes out on her own, believing that she will find her calling on a magical night in the city. But soon after she arrives, she realizes that she is ill and that her life could be in danger. William's father passes away and William now travels to New York to find his Venus.
A wild storm, an impromptu play on a city building, and an eventual reunion all bring them together. All of this (takes place) in memory of William, now without his wife, and he tries to reach her from beyond, seeing visions of her in and around his home during storms. His son believes his father is mentally ill but they both are witness to a miracle on earth and the heart-pounding conclusion of this magical story.
[vimeo 55291266 640 480]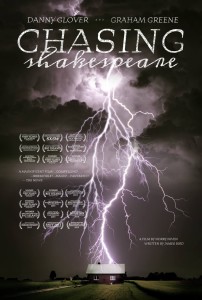 Jeanne's Take:
"Chasing Shakespeare" is the opening film in the American Indian Film Festival on the west coast this year. It already has won awards at festivals in Cannes, Houston and Hollywood.
Danny Glover and Graham Greene are the accomplished actors whose names you know. Just wait, though, until you meet this film's heroine Venus Red Hawk, played by Chelsea Ricketts.
This is a love story, told in flashback over 50 years. It will bring you joy and laughter, and after you see it you will wonder why, for the tenth time this week no doubt, why all films can't be made with such joy.
Widower William Ward (Glover) struggles to recover from the death of his life-long beloved wife, Venus Red Hawk (Tantoo Cardinal). He listens for her voice in rainstorms and in the lightning especially since she was a daughter of the Lightning Clan, whose members greet the lightning like a relative, a member of the family. Their son Jeremiah, played by Clarence Gilyard Jr., worries about his father William and whether he will survive the loss of his beloved Venus.
As he works through the grief of losing her, William recalls how they met in the Arkansas farm country, how he courted her, and what dreams consumed Venus who loved all things Shakespearean as much as her clan loved lightning.
Venus as a young woman is played by Ricketts (Blackfoot Nation), and she is excellent in the part. Her Venus is the self-assured daughter of a mysterious lightning clan, who is proud of her Native American heritage and deeply versed in just about every play William Shakespeare ever wrote. When she attends auditions for plays, her recitations stand above all the rest. However, she is a little too "brown" for the parts she seeks, at least in Arkansas. Eventually she strikes out for New York where Shakespeare is well known, where her dedication will be appreciated, and where she hopes to be free from racial prejudice.
At one of her high school tryouts, she meets young William, played by Mike Wade. He is enchanted but her guardian (Graham Greene as Mr. Mountain) drives away before William gains enough confidence to run to their truck. "Run faster," Venus calls to him as Mr. Mountain drives away. And the next time, William does run faster.
Their courtship is filled with laughter and moments beautifully rendered, as William is introduced to the Lightning Clan in particular and to Native Americans in general. Through haunting natural scenery and lyrical moments in the relationship of William and Venus, we are reminded gently of how rich we humans truly are when we are in touch with the world around us, those inner voices which we ignore at our peril.
The frequent quotes from Shakespeare, and the beautifully filmed rainstorms with lots of lightning are metaphors for all that they will have together, and for the challenges always presented by time. Will there be time for success on Broadway, is William her true love, will they have children, can William reconcile with his father who has a different idea of what his son should do with his life?
Greene is playing a part he no doubt has played before especially on television, but is quite believable as the shaman-like protector of a family whose father has died. An Oneida from Canada, he has appeared in "Dances with Wolves" with Kevin Costner, "Maverick" with Jody Foster and Mel Gibson, and in "The Green Mile" with Tom Hanks.
Film producer and stage performer Glover has acted in films such as "Honeydripper" directed by John Sayles, and "The Royal Tenenbaums" with Gwyneth Paltrow and Alec Baldwin, as well as "Boesman and Lena" with Angela Bassett (adapted from Athol Fugard's play).
Ricketts is best known for her work on television. Besides appearing in series such as "Melrose Place," "Grey's Anatomy" and "CSI: Miami," she has starred in "Lincoln Heights" and in "10 Things I Hate About You."
James Bird (Ojibway) wrote the screenplay and Norry Niven directed. Niven moved from production of commercial spots for major clients such as Nintendo and Disney, to work on all eight seasons of the TV series "Dexter." His combination of visual effects and storytelling makes "Chasing Shakespeare" a magical and spiritual love story.
See this film, please.