It's a place to meet Arrow, Legends of Tomorrow, and Agents of S.H.I.E.L.D. The SIDEWALKS crew went to San Jose for Heroes and Villains Fan Fest.
The SIDEWALKS ENTERTAINMENT team attended the Heroes and Villains Fan Fest (HVFF) convention during Aug. 27 – 28, 2016. This was the 2nd annual event held at the San Jose Convention Center.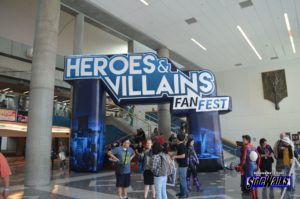 The crew of SIDEWALKS has been to a number of similar events, such as Wizard World, WonderCon, Big Wow!, Silicon Valley Comic Con and Creation Entertainment's Star Trek conventions. (Incidentally, Wizard World, Big Wow!, and Silicon Valley were held at the same convention location in downtown San Jose). While all appears to be the same in nature, HVFF is actually a smaller, more intimate affair.
Actor Stephen Amell, the title star of The CW's "Arrow," and James Frazier, creator of the zombie and horror event Walker Stalker Con, are the co-founders of Heroes and Villains Fan Fest. Their primary goal is for fan access to the celebrity guests.  No gimmicks or high tech flash. Meet the stars. Plain and simple. Mission accomplished.
What's the same? All of these Comic-Con-like conventions have panel sessions and retail/sellers/artists to purchase products, like toys, books, comic books, posters, t-shirts and paintings. There are also booths to meet the stars and get autographs, as well as a separate area for photo opportunities with the participating guests.
Its panel sessions are what separate HVFF from the others. The larger Wizard World and one-time Bay Area staple Big Wow! had a main conference room and side rooms being used to host over 50 panels concurrently during the weekend, while inaugural the Silicon Valley Comic-Con earlier this year had its panels in the large conference room and at a nearby community theater/concert hall. HVFF decided to skip the convention rooms and the put the panel action on the main floor where the retail vendors are in. One big room for everybody. Additionally, HVFF had one panel at a time, so visitors didn't have to leave the main floor at all. Without using a huge separate room, fans were a little closer to the celebrity guests on stage. There were less panel sessions at HVFF, which it made easier for visitors to either go listen to the stars on stage or visit the retail section. The only issue I found, if you sat in the back of the general seating area, it was hard to hear the guests on stage, since it was a wide open area.
Heroes and Villains had more celebrities than retail booths, which was different. Of course, HFVV didn't have a mixture of celebrity guests like the other conventions. There were no William Shatners, Bruce Campbells, Patrick Stewarts, Stan Lees, or stars of "Star Wars" and "Games of Thrones" appearing here. Not that those celebrities won't appear at HVFF in the future (its only in its 2nd year of operation), but this one featured primarily cast members of The CW superhero shows like "Arrow," "The Flash," and "DC's Legends of Tomorrow," with a couple from ABC's "Agents of S.H.I.E.L.D." and "Once Upon A Time." It felt like Amell's co-stars and friends joined him on the plane and traveled to their own private convention.
Some of the stars who appeared at this year's HVFF were:
"Arrow" stars included Amell, John Barrowman (who also represented "Doctor Who" and "Torchwood"), previous guest Katie Cassidy, Willa Holland, David Ramsey, Paul Blackthorne, Charlotte Ross, Echo Kellum, Katrina Law, Amy Gumenick, and former cast member Colin Donnell (now on NBC's "Chicago Med")
"Legends of Tomorrow" regulars Brandon Routh, Caity Lotz & Ciara Renee and guest star Johnathon Schaech
"Agents of S.H.E.I.L.D's" Clark Gregg and Chloe Bennet
"The Flash" cast members Candice Patton, Rick Cosnett, Teddy Sears, and Robbie Amell (cousin to Stephen Amell)
Michael Rooker, Gregg Henry and Sean Gunn from "Guardians of the Galaxy"
Emilie de Ravin, previous guest Sean Maguire, Robbie Kay, Victoria Smurfit and Kristin Bauer of "Once Upon A Time"
Also appearing at HVFF were Milo Ventimiglia ("The Ogre," "Gotham," "Heroes"), Matt Ryan ("Constantine"), Brian Tee ("TMNT 2"), Chandler Riggs ("The Walking Dead"), and Jack Coleman ("Dynasty," "Heroes").
At this HVFF convention, we didn't see as many of the cosplayers — people who dressed up as their favorite comic or science fiction character. While HVFF had people walking around in quality disguises and there was a panel contest for cosplayers, it was lacking the amount we usually see, like the other conventions.  None of the popular cosplayers we have featured on the SIDEWALKS site were on hand.
While the crew of SIDEWALKS traveled to the South Bay and spent a couple of nights there, we were hoping to have on-camera interviews with some of the celebrity guests for our national TV show and online. Unfortunately, we came back, surprisingly, with only one interview – thank you Jack Coleman! You are our Hero. For whatever reason, due to miscommunication with the PR company and/or agents & stars, we weren't granted any interviews onsite, even though we followed instructions and requested interviews prior. As stated for press by HVFF staff, no celebrity interviews are guarantee and fans' access to the stars are the priority. That statement became so true for us that weekend. But, luckily, we were able to snap photos of the stars on stage and take images of the cosplayers. It wasn't a total loss. We, too, are doing it for the fans.
No matter how small the HVFF event was, the fans were enjoying themselves. The numerous people we talked to were excited to get photo opps with the stars. While some pictures cost more than $130 (single actor shot) and autographs averaged at $50, there were many happy faces. There were some stars who went out of the way to give selfies to the fans, like the lively Barrowman, who was sick at the time, but he still made it to the event. If you Instgramed some of the stars at the event, you can see the TV stars were having as much fun as the visitors.
Heroes and Villains Fan Fest is a smaller convention, but has big aspirations. If they can keep it intimate in the long run, HVFF will be a winner — to the stars and fans.
Video:
Photos (more pictures will be added):

Cosplayers
Arrow (different panels featuring Willa Holland, David Ramsey, Echo Kellum, and guest star Amy Gumenick )
The Flash (Candice Patton, Rick Cosnett, Teddy Sears, and Robbie Amell)
Agents of S.H.I.E.L.D. panel (Clark Gregg and Chloe Bennet)
Legends of Tomorrow (Brandon Routh, Caity Lotz, Ciara Renee, and Johnathon Schaech)
Guardians of the Galaxy Panel (Michael Rooker, Sean Gunn and Gregg Henry)