JUST ADDED! The popular greek TV presenter, model and pop singer performs a cover of Selena Gomez's "Good For You." 

Video Content: NastaZia's "Call Me Baby" music video and Sidewalks host segments (2015)
Hosts Veronica Castro and Richard R. Lee are seen introducing the episode where NastaZia's music video makes its USA television premiere on SIDEWALKS ENTERTAINMENT. NastaZia is seen in the episode "Kevin & Kevin," featuring "Sirens" stars Kevin Daniels and Kevin Bigley and the "Being Beige" music video of The Smashing Pumpkins.

Exclusive On-Line Interview:
NastaZia is a singer, songwriter and model, who started her aspiring career in modeling. Two years later, she was a TV presenter on Greek television. NastaZia has appeared in many beauty pageants, major fashion shows, and has been featured on many international magazine covers, including Max, Nitro, Maxim, Playboy, and Allo. Recently, NastaZia started singing and writing her own songs. Along with "Call Me Baby," she released music videos for her songs "Angel," "Deal With The Witch," and "Vampire Love." All of her videos are appearing on the music service, Vevo.
Sidewalks: Tell us about where you are from and where you grew up?
NastaZia: I was Born in England and grew up in Greece. My mum is English and my dad was Greek.
Sidewalks: Was modeling your first professional gig in entertainment?
NastaZia: I started my career as a model in Greece and Milan and then as TV presenter on a very popular Greek TV Show. I still continued my modeling career, since TV opened more doors for me.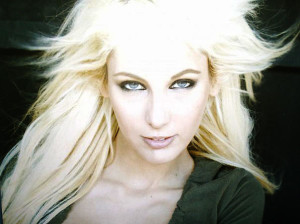 Sidewalks: You have appeared in many magazines and covers. Some very sexy photo spreads. Do you like doing those? Any favorite ones?
NastaZia: At the time I loved doing all the photo shoots. Being on a cover of a magazines was something fantastic for me. I was feeling very shy when it came to the more sexy photo shoots, but i think that [modeling] helped me overcome fears and gain more confidence. Some of My favorite photo shoots were Max, Playboy, Maxim and Red Believers.
Sidewalks: You told us you were on TV as a presenter. So, tell us about some of the programs you have been on and what were your roles on them.
NastaZia: On the first TV Show, I was working there as a fashion model for about a year. The show was called "Proinos Kafes." Later, I worked as a TV Host for two years on a night show. There were the two main presenters and me. We used to have celebrity guests and interview them. My role was a bit more like breaking the ice situation and making funny and shocking questions. It is an awesome show, and one of the most famous shows here in Greece. It's called "OLA." I really loved it.
Sidewalks: You said music is a recent, new career path. How long did ago were you singing? And why are you making a jump as a recording artist.
NastaZia: I always loved singing, since a child. I have been writing lyrics since I remember my self. I gained more confidence from show biz and decided it's time. I love music. I love singing and writing lyrics. It's so much fun.
Sidewalks: Who are you favorite musical performers?
NastaZia: My favourite are Tokio Hotel, Adam Lambert, Tommy Joe Ratliff and BOTDF. They are super awesome and inspiring.
Sidewalks: Let's talk about your music. From your previous music videos that you made, you had a punk/rocker style. It looks like you are moving toward being a pop singer?
NastaZia: I love changing style. I love rock and punkrock, but I must admit, apparently, pop suits me a bit more.
Sidewalks: Thank you for giving "Sidewalks Entertainment" an opportunity to be the first TV show in the USA to play "Call Me Baby." Tell us about the making of the video. Who are the people in it?
NastaZia: I'm so happy that my music video premiered for the first time on "Sidewalks TV." Thank you so much for having me on your TV show and thanks for the interview. "Sidewalks TV" Is fantastic. "Call Me Baby" was directed and filmed by me. In the video, a boy and a girl fall in love from the first second they see each other. The amazing people that take part, and that I'm forever grateful are awesome friends from all around the world. Amazing friends from USA, Australia, Greece, Canada etc. Friends from my hometown Galatas and many more amazing people. Special guest star in my music video is the amazing actor Ronnie Gene Blevins. I had so much fun making it. Everybody in the music video are super awesome. The video also has amazing adorable pets, too. The cat that is in the video is my baby girl Twinkle. Even friends of friends that i didn't know took part, and I consider them my friends too now. They are all amazing, and I want to say Thank you to all.
Sidewalks: What are you future plans? Still as a model and/or singer?
NastaZia: I want to carry on recording music and making music videos, and when I can, I want to open an animal shelter.
Sidewalks: What do you want to say to your fans who have been following your career?
NastaZia: I want to thank them so much for believing me and making me feel good even when I have a bad day. The feedback they give me about my music cheers me up. They are awesome.
Leave us your comments about NastaZia. She does know about the article and will see your comments.
(This article was first published on February 1, 2015. An exclusive online interview was added on February 11, 2015. Added NastaZia video performing a cover of Ellie Goulding's "Love Me Like U Do" and Selena Gomez's "Good For You.")