Yet another swashbuckling adventure staring the swaggering, drunkard and flamboyant pirate of the high seas Jack Sparrow (Johnny Depp). Our J.P. reviews "Pirates of the Caribbean: Dead Men Tell No Tales," the fifth installment of the movie series.
PIRATES OF THE CARIBBEAN: DEAD MEN TELL NO TALES (in Digital 3D)
DISNEY/JERRY BRUCKHEIMER FILMS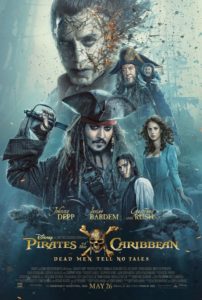 Genre: Action-Adventure
U.S. Release date: May 26, 2017
Cast: Johnny Depp, Javier Bardem, Brenton Thwaites, Kaya Scodelario, Kevin R. McNally, Golshifteh Farahani, David Wenham, Stephen Graham and Geoffrey Rush
Directors: Joachim Rønning and Espen Sandberg
Producer: Jerry Bruckheimer
Executive Producers: Mike Stenson, Chad Oman, Joe Caracciolo, Jr., Terry Rossio, Brigham Taylor
Story by: Jeff Nathanson and Terry Rossio
Screenplay by: Jeff Nathanson
Studio Synopsis:
Johnny Depp returns to the big screen as the iconic, swashbuckling anti-hero Jack Sparrow in the all-new "Pirates of the Caribbean: Dead Men Tell No Tales." The rip-roaring adventure finds down-on-his-luck Captain Jack feeling the winds of ill-fortune blowing strongly his way when deadly ghost sailors, led by the terrifying Captain Salazar (Javier Bardem), escape from the Devil's Triangle bent on killing every pirate at sea—notably Jack. Jack's only hope of survival lies in the legendary Trident of Poseidon, but to find it he must forge an uneasy alliance with Carina Smyth (Kaya Scodelario), a brilliant and beautiful astronomer, and Henry (Brenton Thwaites), a headstrong young sailor in the Royal Navy. At the helm of the Dying Gull, his pitifully small and shabby ship, Captain Jack seeks not only to reverse his recent spate of ill fortune, but to save his very life from the most formidable and malicious foe he has ever faced.
J.P.'s Take:
Among the many Disney theme park attraction based movies, such as "Haunted Mansion," "Country Bears" or even "Tomorrowland," none have raked in a treasure trove of box office gold than "The Pirates of the Caribbean" franchise.
Although despite its popularity, I feel the franchise takes a slight hit with the latest offering, "Pirates of the Caribbean: Dead Men Tell No Tales," as the water logged storyline feels all too familiar.
All you have to do is jump in a time machine and travel back to 2003's "Curse of the Black Pearl." Basically you replace Geoffrey Rush's character with Javier Bardem's and add a new plot device which involves Sparrow teaming up with a new set of young folks to find Poseidon's Trident. It's said to break the curse of all whom roam the seas. Don't get me wrong you'll find that it's no less adventurous or spooky or exhausting as any of the "POTC" flicks. It's just that it doesn't have the same effect as – say – "Star Wars: The Force Awakens."
When you revisit the very first "Pirates" film, you don't see theme park attraction — you see true adventure and story telling. With this fifth installment, unfortunately, it starts to feel like the filmmakers were gearing up for the opening of a redux of the Disney amusement. There were times where many of the action sequences felt epic, yet lead you on a long walk off a short plank. As a viewer, I felt drowned in noisy exposition with explosion after explosion and ships being obliterated.
New cast mates Brenton Thwaites as Henry Turner and Kaya Scodelario as Carina Smyth, the new young couple who team up with Sparrow, were basically copies of Keira Knightley and Orlando Bloom and the roles they played in the original "Pirates." You'll find out the connections between the characters towards the end of the film, as there are some surprises through out.
For this iteration, Depp, the originator of Capt. Jack Sparrow and all his numbskullery, feels more like a mockery of himself in the role this time around. It couldn't get more gimmicky than this.
Kudos go to Bardem, however, for his lurching creeping performance as Spanish Captain Armando Salazar. Recent SIDEWALKS guest Geoffrey Rush as Captain Hector Barbossa as is pleasure to watch as usual. One of the surprise faces you may or may not catch at first would be Sir Paul McCartney, who churns out a nutty role as Jack Sparrow's uncle. This is something of a follow up to the Sparrow's family tree, after Keith Richards made his appearance in "At World's End."
When the adventure came to an end, I was left more exhausted than exhilarated for the series. I was, however, left with an interesting surprise after the credits rolled, which of course meant be ready for a sixth installment. I wanted to like this one as much as I enjoyed "The Curse of the Black Pearl" or even "Dead Man's Chest."